July THIRD  the Day of the COMMEMORATOR:
This is a Major Completion Year for You 3 July 2018
Because you have a Nine card in a prominent position this year (Long Range, Pluto, Result, Environment, or Displacement), we know that this will be a year in which you achieve an important ending in your life. This Nine may occur in either your Birth Card or Planetary Ruling Card Spread. Endings can be seen as disappointments if we disregard their true meaning. In truth they represent graduations from chapters of our life that were important, but are now no longer helpful for our personal growth and development. What is also beautiful about endings is the wonderful freedom we feel after we have passed through it and are on to our next stage of work and development.

Your Uranus Period lasts from 03/21/2019 till 05/12/2019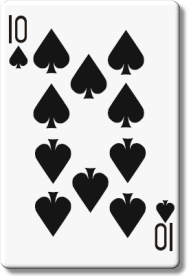 Your Direct Uranus Card
The TEN  of Spades in the Uranus Period
This card represents success in organizations of labor, real estate or other earth-related businesses. General success in work and the overcoming of work and health difficulties are suggested by this card. This success also applies in the areas of humanitarian work, futuristic technology, or in some unusual manner. This is an excellent influence and gives you a special gift of dealing with groups of people in a healing and positive way.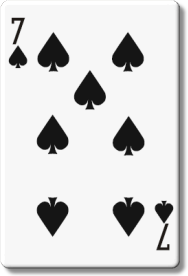 Your Vertical Uranus Card
The SEVEN  of Spades in the Uranus Period
Though you may not get full credit for your work now, do not let that become a source of problems on the job. This period may bring some kind of unexpected illness or trouble with one's job, maybe from overworking. You may be suddenly confronted with your own fears or negativity or bad habits that now need correcting. Success is highly possible now if you heed the call. Exposure to spiritual wisdom and people will be a great help and could add to your success.
This is a good influence for spiritual matters, learning new spiritual information, attending classes, etc. Also, keep in mind that a positive card, such as a four, eight, or ten, in the other position this period would offset any problematic situations that may arise and bring about good results overall.
You will get a Wish Fulfilled This Year 3 July 2019
Your Birth Card falls in a position this year that is governed by the Planet Jupiter. Because of this you will have a certain amount of good fortune and you will see at least one of your important wishes fulfilled at the same time. This does not mean that every problem in your life will disappear or that everything will be easier. But it does mean that some things will come easier to you and that something you want will manifest itself. This is, for the most part, going to be a year of prosperity and abundance. Though you may have challenges in other areas, there will be much to be grateful for. Magnify this prosperity by receiving it and giving thanks.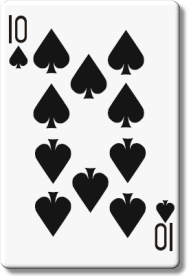 Your Long Range Card
Your Long Range Card is perhaps the most important card of the year. It defines something or someone that will be a major focus of your attention. It is neither positive or negative, just a place where a lot of your time, energy or attention will be spent throughout the year.
The TEN  of Spades as the Long Range Card
The Ten of Spades is one of the best cards for success and satisfaction in your work and in health, though you can bet that you will have to work for it. With this powerful card present, it is advised that you make a list of all that you want to accomplish this year and get working. You will be successful. At times you will feel that all you do is work, work, work, but for most, the rewards will be more than worth the effort. Success related to groups is highlighted.
Keywords: A year of hard work and major accomplishment. Success with groups is assured. Make a wish list and be willing to work.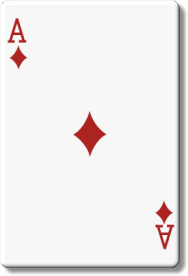 Your Pluto Card
Your Pluto Card is also a very important card in the Yearly Spread. It signifies something or someone that will cause a significant change in some part of your life. It may define an area where you experience a 'mini-death' in your life, a place where you release a negative pattern to make room for a more positive way of life.
The ACE  of Diamonds as the Pluto Card
This will be a year when you make some major changes in the way you relate to money and finances. You may have just had a change in your values or your philosophy about money that leaves you clear that you definitely want to obtain more prosperity and abundance. A strong impetus is present which will most likely motivate you into action to create more prosperity in your life. It is likely that you will make entirely new plans for creating more wealth, perhaps launching a new business or financial enterprise.
To achieve your new financial goals you will have to make many changes in the way you do things and this will not always be easy. This year could very well be the dawning of material success as one of your new enterprises could prove to be quite lucrative in a long term sense. Look at the Result Card for more specifics about this new desire for prosperity and how you mean to achieve it.
Affirmation: My strong desires for financial prosperity transform me and my actions. I create new beginnings for me, my work and life.
 Karma and world opinion is on his side. Astro-Psychometrically speaking Assange has the SIX 
of Diamonds (Fate) "Financial Responsibility" Card as his theme for age 47. On 3 July 2019 he draws the TEN 
of Spades "The Ten of Tens - The Work Success" Card. Between 45 and 55, everyone goes through their mid-life transition. Whatever they were doing before 45, they will be doing something different by age 55. If there is Karma - I wouldn't bet against it - then look for the Pamela Anderson-Assange wedding at the Vatican.