Your Birth Card June 14th represents the Self, your Soul, your Who You Truly Are Card. In Jungian psychology this is your unconsciousness the most important actor in your life path script.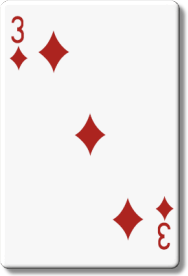 The Three of Diamonds Person
The Undecided Values Card
The Three of Diamonds is considered one of the more difficult of the life paths of all the cards, especially when the Three of Diamonds is a woman. Indecision in values along with past life relationship karma (Six of Hearts Karma Card) can cause many challenges in the affectional life. They also can be some of the biggest worriers about their finances. All Threes are guilty of worry and indecision and must find constructive outlets for their overactive mind to direct it away from worry and fear. The best remedy is to find some expression of their creativity. They must express themselves.
A natural interest in metaphysics should be cultivated if they are to know more peace in their lives and overcome the many hurdles and temptations. They always know what is right and wrong, though sometimes they try to ignore what they know. Not all Three of Diamonds have these problems. Operating out of the high side of this card, they are extremely creative and productive, expressing themselves in a multitude of productive ways. They can be the greatest entertainers or public speakers e.g. Trump 14 June 1946
They also have very powerful minds capable of piercing the deepest and most mysterious subjects. They can also be powerful speakers once they have found something they believe in that they want to talk about. This is one of their highest forms of expression - to promote what they believe in and share it with the world.
They have more satisfaction in business where they can travel or do various different things. There is usually someone younger for whom they must make sacrifices, often one or more of their own children. With three nines in their Life Path, their later life can be disappointing, UNLESS they have developed their spiritual side, which will give them peace and wisdom. These people are here to try many 'things' on for size and then to settle on the truth. They always benefit from changes and travel and are advised to pursue a career that gives them some freedom.
Some of the Three  of Diamonds Issues Concerning Relationships
Talk about challenges in love! This card runs neck and neck with the Queen of Diamonds as being the most difficult in the deck in this area. There is such great creativity in this card, that they come into this life feeling like there are boundless realms to explore and experience. At some point they realize that they also have tremendous fears of abandonment and betrayal that must be dealt with along the way. This usually manifests as multiple relationships or chronic indecision regarding matters of love and marriage. If they cannot deal with their own inner insecurities, they will usually choose to have transitory relationships. They are learning to let others be as they are and to heal their own fear and doubt in matters of love. Multiple marriages are common with this card, as with the Queen of Diamonds.
The Planetary Ruling Card represents the Ego, Who You Think You Are and life goes better when the Ego is in alignment with the Self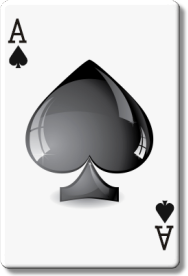 The Ace of Spades As Your Planetary Ruler
The Card of Ambition and the Magi Card
This ruling card adds a lot of passion and ambition to your personality. It could even result in your becoming something of a workaholic. It will cause you to seek to find yourself in your work and in the things you create. You generate a lot of power and have a strong will. This will cause your life to be a series of chapters, and in each you have transformed into a new person. Inner transformation is a part of your life pattern and this may lead you to the study of metaphysics where you will find answers to the many questions about your life. You have a special inner power that can only be accessed by turning your attention within. Relationships will be a major challenge in your life until you face the truth about your own inner needs versus your external goals and dreams.
 Most Important Guideline for 72-year old Gemini III THREE  of Diamonds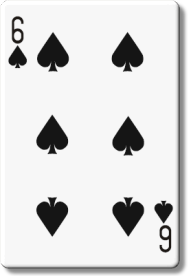 Your Long Range Card
Your Long Range (Theme/Focus) Card is perhaps the most important card of the year. It defines something or someone that will be a major focus of your attention. It is neither positive or negative, just a place where a lot of your time, energy or attention will be spent throughout the year.
The SIX 
of Spades as the Long Range Card
This will be a year with many possible levels of experience, all under the influence of the powerful Six of Spades. On a purely mundane level, the Six of Spades says that this will be year of few, if any changes in work, health, occupation, or place of residence. This can be good if you are in a good situation when the year begins. However, if you are unemployed when this year begins, you may have to contend with not having a new job for an entire year, so strong is the 'lack of change' influence of this card. There will probably be less opportunities for travel this year and no changes in residence.
On a deeper level, the Six of Spades has a strong 'balancing the scales' influence to it. It says that you will get exactly what you give this year, both in your work and in regards to your own health. If you are experiencing any health difficulties this year, they will most likely be the result of your not giving enough attention to your health. To improve your health under this influence, all you have to do is to put in some constructive energy into loving your body and starting more healthful habits. On the work scene you may find yourself involved in having to make compromises and adjustments, giving in a little or taking a little so that your entire work scene may run smoothly. Keeping a balance in all your affairs is a major theme this year.
Finally, the Six of Spades is the card of 'fate' and 'destiny'. Many times when this card is present, we have major turning points that lead us to our ultimate destiny. If you take the time to tune in to your deepest thoughts and feelings, you may get an important message as to where you will go next and what you will do.
Keywords:
A year of learning to be responsible for your work, health habits, and lifestyle. A year of keeping the peace and perhaps one of discovering a special and meaningful purpose for my life's work.
 Your Ego (Planetary Ruling) ACE  of Spades Guide
This section has influences from your Planetary Ruling Card. Though not quite as significant as your Birth Card's influences these will, just the same, be things that occur in your life and some may be very important. Keep in mind that these two spreads represent two separate things happening during the same time period. There is no need to try and combine their influences.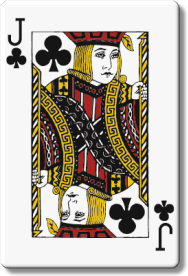 Your Long Range Card
Your Long Range Card is perhaps the most important card of the year. It defines something or someone that will be a major focus of your attention. It is neither positive or negative, just a place where a lot of your time, energy or attention will be spent throughout the year.
The JACK 
of Clubs as the Long Range Card
The Jack of Clubs tells us that you will be dealing with some very creative and youthful energies this year, either your own or those of an intellectually stimulating and, probably, younger man. This creativity can be channeled profitably and successfully into many endeavors such as writing, sales work, or anywhere new and creative ideas are of value. You are really on a creative high this year and can expect good results from all forms of creative work. On the negative side, watch out for a tendency to be irresponsible and frivolous under this influence and also be watchful for others that play that role with you.
The Jack of Clubs has another important meaning for those who are interested in the spiritual side of life. If often represents an initiation into higher knowledge. This could mean that you are exposed to some new ideas or philosophies that could radically change the way you think about yourself or life. Your entire method of communicating could undergo a dramatic transformation as the year progresses.
Keywords:
A year of heightened mental creativity and initiations into new forms of knowledge and ways of communicating.
Birth Card 52-Day Planetary Periods
Helen this section gives seven horoscopes in 52 day increments from Mercury to Neptune. Since you don't have a computer and you have already confusingly got through Mercury (blame it on that ACE of Spades) I'll send the Venus forecast et al in the mail.
Overview of your 52-Day Planetary Periods
Your

 

Mercury Period

 

begins

 

6/14/2019 and ends 08/5/2019

Your

 

Venus Period

 

begins

 

08/5/2019 and ends 09/26/2019

Your

 

Mars Period

 

begins

 

09/26/2019 and ends 11/17/2019

Your

 

Jupiter Period

 

begins

 

11/17/2019 and ends 01/9/2020

Your

 

Saturn Period

 

begins

 

01/9/2020 and ends 03/1/2020

Your

 

Uranus Period

 

begins

 

03/1/2020 and ends 04/22/2020

Your

 

Neptune Period

 

begins

 

04/22/2020 and ends 06/13/2020