On September 26th, Trump is in Mars for the next 52 days, past the November 6th Mid-Term Elections. Trump brings his "Power in Work Card" the EIGHT 
of Spades and just like his fellow THREE 
of Diamonds, George Washington, did 243 years ago, went to war with "The Master Card," the KING 
of Spades, the most Powerful Card in the Deck.
The Birthday Readings go from zero to 45 and then repeat to age ninety, meaning that Che Guevara 14 June 1928, had the same Birth card and Self card Horoscope (Astrology Reading) at twenty-seven, as Trump 14 June 1946, did when he was 27 and now at 72.
On his 27th birthday, in June 1955, Che Guevara met Fidel Castro in Mexico and joined the 26th of July Movement to overthrow Juan Batista.
The Cards Influencing Trump's Mars Period

Trump's Mars Period lasts from 26 Sep 2018 till 17 Nov 2018
About the Mars Period Cards from This Spread
The Mars Period is the one that always begins approximately 104 days after your birthday each year. During this period, you are likely to have more physical and aggressive energies. For this reason, this is a good time to get involved in physical pursuits or to actively pursue your goals.
Mars Period Cards also govern our relationships with men in general and with any legal matters we are involved in. If you are involved in a legal suit of any kind, the Mars Cards will indicate the probable success or failure of these pursuits.
The THREE 
of Diamonds "Financially Creative" Trump's Birth Card, his Self Card, his Who He Truly Is Card.
The cards below are from Trump's Birth Card's Yearly Spread. Therefore, they are some of the more important Mars Cards of the year and will apply specifically to the areas of his life and personality that are represented by the Self, the Birth, the Who We Truly Are, Card.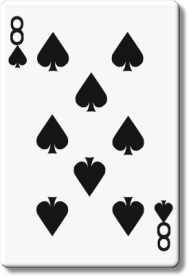 Your Direct Mars Card
The Eight 
of Spades in the Mars Period
This period will bring Trump the ambition and drive to accomplish as much success as he likes. Success in a legal matter or in dealing with groups or associations of men is especially favored. This is one of the most powerful combinations of energies he can find. Trump can achieve just about anything he desires at this time through his will and hard work. Trump's challenge: Just be careful that your abrupt manner doesn't put people off.
Mars Reading for George Washington, Che Guevara and Trump when they were twenty-seven, as well as Trump now 72. 
The powerful and overcoming influence of this card is strong and will bring a happy and successful period for Trump. A positive card in the other position will further strengthen the influence of this card and could tell Trump who or what he will experience such success with during this 52-day period. Mid-Term Elections & Kavanaugh Confirmation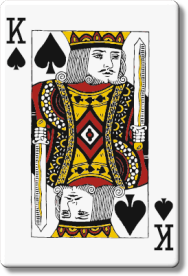 Trump's Vertical Mars Card
The King 
of Spades in the Mars Period
Any involvement with legal matters this year will turn out in Trump's favor as the King of Spades rules over this Mars period. Trump can expect better relations with men and great success in any projects that he is passionately pursuing. As a matter of fact, this card guarantees success in every area of Trump's life if he is willing to apply the wisdom the KING
 of Spades is bringing to him now. If Trump is ready to take a leadership role in his work, the Presidency, now is the time.      
 Trump's theme, his Long-Range influence for his 72nd year, 14 June, to 14 June 2019, is the SIX 
of Spades,"The Card of FATE." This means that what's going to happen, is what's going to happen. So, if Trump has shitty cards, there is very little he can do about it. Therefore, having two lollapalooza cards in Mars is great, because Trump is definitely in a war with the CIA, FBI, and DOJ in particular and the Swamp bureaucracy in general.