Trump as Che Guevara sits down with Elvis Presley's reincarnation Kim Jong Un. Kim & Elvis are both born on that fateful day 8 January - the Day of the BIG BANG: The reason for the fateful birthday is their Self, Soul, Purpose for Being, the SIX of Spades "The Card of Fate."


SIX 
 of Spades (Swords) in Tarot
The Lifetime chart of someone born on January 8 is the same for everyone since the beginning of time. Kim Jong-un at 33 has reached his Pinnacle Year compare this to Elvis.
 Elvis born on January EIGHTH the Day of the BIG BANG in 1935. In 1968 at 33, following a seven-year break from live performances, Elvis returned to the stage in the acclaimed televised comeback special Elvis, which led to an extended Las Vegas concert residency and a string of highly profitable tours.
 David Bowie, another January EIGHTH the Day of the BIG BANG baby, a 1947 model, after uneven commercial success in the late 1970s, Bowie had UK number ones with the 1980 (33) single "Ashes to Ashes", its parent album Scary Monsters and Super Creeps, and "Under Pressure", a 1981 collaboration with Queen. He then reached his commercial peak in 1983 with Lets Dance.
Age 33 was great for Bowie and Elvis, relaunching their careers. What happened to Kim at 33? On 26 February 2013, Kim Jong‑un met Dennis Rodman,leading many reporters to speculate that Rodman was the first American that Kim had met. 
According to the USTD and Dennis Rodman Kim celebrated his 35th birthday on January 8th this year.
North Korean authorities and state-run media have stated that Kim's birth date was 8 January 1982, but South Korean intelligence officials believe the actual date is a year later. It is thought that Kim's official birth year was changed for symbolic reasons; 1982 marks 70 years after the birth of his grandfather, Kim Il-sung, and 40 years after the official birth of his father Kim Jong-il. The US Treasury Department lists Kim Jong-un's official birth date as 8 January 1984.Former basketball star Dennis Rodman said that this was Kim's birth date after meeting in September 2013 in North Korea.
From late 2010, Kim Jong-un  (8 January 1982,1983 & 1984) was viewed as heir apparent to the leadership of the DPRK, and following the elder Kim's death, he assumed office on 17 December 2011 at the age of 29, 30 or 31. On June 12, 2018, (at the age of 34) Kim met Donald Trump for a summit and signed a declaration, affirming a commitment to peace and nuclear disarmament.
Kim Jong-Un Folds but Wins the Pot!
Reunification is estimated at a half-trillion dollars, Kim pushes away from the table with the proceeds, for the sale of his country, paid in Bitcoin.
Vlad  Putin

John  Bolton

Mad Dog  Mattis

 

Donald  Trump

Kim  Jong Un

Moon  Jae-in

Dennis  Rodman 

Mike  

Pompeo

Xi  Jinpeng
This is Kim's Year of the Mystic Triangle
This particular year may be one of the most life-changing you have had. Generally, when someone is in this mystic position, they make some important decisions about changes in their life, important changes that lead to more happiness and fulfillment. As you enter this year, it is wise to be asking yourself what sorts of changes in your life would be more life-enhancing and fulfilling. This might mean a change of career, life style, relationships, or all the above. These changes could be seen by others as drastic in nature, but for you, they will be a necessary ones. Full reading (here)
Trump and Che Follow the Script of
14 June
Trump is a Nazi, a Hitler. Wrong. Trump is a disruptor. Trump is a Che Guevara. In June 1955, at the age of 27 Che was introduced to Raúl Castro, who subsequently introduced him to his older brother, Fidel Castro, the revolutionary leader who had formed the 26th of July Movement and was now plotting to overthrow the dictatorship of Fulgencio Batista.  
The script from 0-45 is repeated from 46-90 making Trump at '72 the redo of Che Guevara at 27. In Astro-Psychometric terms, the narrative for Trump's Self, Ego and Affinity is the same as it was for Che in June 1955.
TRUMP Gets the High Cards, When He Needs Them Most
Trump entered his fifty-two day Saturn period on January 9, 2019. Saturn is the toughest time of the birth year for everyone and when you need the best card hand fate can give you.
About the Saturn Period Cards from This Spread
The Saturn Period follows Jupiter and is almost the reverse of it in it's influence. Whereas Jupiter is expansive and abundant, Saturn is often restrictive and burdensome. The two cards found in this period will combine to tell you what influences are present and therefore, what is likely to occur.
Our Saturn Cards often describe who or what are our major challenges or difficulties for the year. However, by facing these challenges, we can learn many things that will aid in our ultimate success. Saturn teaches us patience and responsibility.
The cards below are from your Birth Card's Yearly Spread. Therefore, they are some of the more important Saturn Cards of the year and will apply specifically to the areas of your life and personality that are represented by your Birth Card.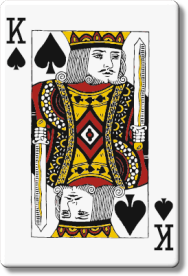 Your Direct Saturn Card
The King 
 of Spades in the Saturn Period
Though Saturn is typically the most difficult time of the year, the presence of the King of Spades in this position this year promises that you will be able to overcome any difficulties that may arise, especially those relating to health or work. This powerful card also casts a favorable influence over your entire year, giving you better chances of success in every area of your life. For sure, your health will be good this year, mostly from taking matters into your own hands.
This is an especially good influence for progress and success in your career. Through hard work and the willingness to take responsibility, you can go far and receive some well deserved recognition for your efforts.
Be on the lookout for men of the
Spades suit (like Kim Jong-Un)
 especially those who are older or who may be in positions of authority or responsibility. These are likely to prove troublesome or burdensome in some way during this period.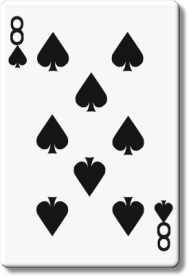 Your Vertical Saturn Card
The Eight 
 of Spades in the Saturn Period
This period brings you the power to overcome illness and all work or business problems. Success in work and health will come through hard work, discipline and patience. You may reach a high point of success now if you work for it. This is not a time when things come easily and your work or health may have some restrictions or obligations associated with them. However, this card promises the overcoming of obstacles through consistent effort.
This card is such a strong influence that it will override any negative influences present during this period. Even if your other Saturn Card were one of challenge or problem, this card guarantees that you will have a successful outcome and an overcoming of difficulties. Full Reading
(here)