April SIXTEENTH (5d) the Day of COSMIC COMEDY:
Laughter is something that comes naturally to those born on April 16 and with it the ability to allow others to laugh too. Perhaps a knowledge of the tragic, or at least the melancholic, is essential to any great practitioner of the art of comedy and these people certainly have it.They know how to use laughter as a release from very uncomfortable, even painful situations, and because they recognize that laughter and tears are actually close cousins are able to better understand and adjust to the human condition.
STRENGTHS: Humorous, Generous, Accepting
WEAKNESSES: Out-of-Touch, Fiscally Irresponsible, Permissive
ADVICE: Remember who your friends are. Don't neglect your family. Try to keep your emotions on an even keel and beware of sentimentality. Don't be bound to the past, rather look to the future. Beware of those who would take advantage of your good nature.
BORN ON THIS DAY: Charlie Chaplin, Henry Mancini, Edie Adams, Wibur Wright, Peter Ustinov, Spike Miligan, Kareem Abdul Jabbar,  Bill Belichick, Ellen Barkin, Herbie Mann, Bobby Vinton; 
Source: 
The Secret Language of Birthdays,
 Gary Goldschneider & Joost Elffers.
MEDITATION: When one door closes, another door opens.
Diamonds - Values - Security – Dharma
5 of Diamonds - Fluctuation in Finances
Karma for the 5 of Diamonds - Accepting Reality
FIVE 
 of Diamonds: The SALESPERSON Card -  This card has its share of challenges and its share of gifts. Like all fives, they dislike routine and abhor anything that pretends to limit their freedom. They can be perpetual wanderers, never settling down for anything long enough to make it pay off. This includes their work and relationships. All 5 have an inner restlessness, but they truly want to accomplish something of value and stability in their lives. They are inherently spiritual and know what is of true value. The challenge comes in practicing what they know. They come into this life with a certain amount of karma which often takes considerable hard work to discharge. If they are lazy, there will be many problems. They must practice what they know and do what it takes to get the job done without shirking responsibility. They make great sales people and they have tried many things in life and know how to relate to anyone on their own level. Their inner truth is their guiding light.
Your Karma Cards are the: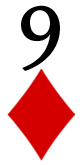 NINE of Diamond
s - You owe something to this person and they reflect you in some way.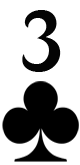 THREE of Clubs
 - This person owes you and you are their mirror in some way.
FIVE 
 of Diamonds BIRTHDAYS: January 22 (Aquarius), February 20 (Pisces), March 18 (Pisces), April 16 (Aries III), May 14 (Taurus), June 12 (Gemini), July 10 (Cancer), August 8 (Leo), September 6 (Virgo), October 4 (Libra), November 2 (Scorpio);
FAMOUS
FIVE 
 of Diamonds: 
William Stephen Belichick
is an American football coach who is the head coach of the New England Patriots of the National Football League.
April 16, 1952 (age 65), Nashville, TN.
FAMOUS FIVE 
 of Diamonds: Diane Lane, Sidney Poiter, Peter Ustinov, Queen Latifah, Cate Blanchett, George Bush Sr., Jessica Simpson, Dave "The Edge" Evans, Jeff Foxworthy, Susan Sarandon, Alicia Silverstone; 
Source: 
Robert Camp's Love Cards
  www.7thunders.com 
 FIVE of Diamonds: Money consciousness is strong for these people, and when it's regarded as a means, not an end, finances are usually at their disposal. Limitations and restrictions in regard to their financial security come through troubling health, or a hampering physical affliction; through difficulties with children, or through a loved one who is faced with trials that cannot be shared. The 5 of Diamonds must choose their course and stick to it. They must seek a place in life where they can forget themselves and make a contribution, and they must learn to abolish their constant uncertainty. They must also guard against creating a separate reality that's out of sync with the reality of those around them! http://www.metasymbology.com/
ARIES III The Week of the PIONEER April 11 - 18: Aries III's are quite uncharacteristic of the more self-centered, egoistic Aries types; much more social in nature, they must interact dynamically and regularly with their fellow humans, particularly with regard to bettering their living and working conditions. They are often true leaders, more concerned with doing good for their followers than with their own glory. Pioneers, they are often idealistic types who follow their visions fearlessly. Needless to say, they cannot exist side by side for long with .another dominant personality, particularly one who challenges their authority. Such struggles may confuse or bewilder those born in this week, who believe that they are only acting for the good of all.
Strengths: PROTECTIVE, GENEROUS, FEARLESS
Weaknesses: UNREALISTIC, UNYIELDING, SELF-SACRIFICING
ARIES III NOTABLES: Leonardo Da Vinci, Charlie Chaplin, Thomas Jefferson, Nikita Khrushchev, Buddha, J.P. Morgan. Helen (Cancer I) Keller's Anne Sullivan Macy (Aries III). Source: The Secret Language of Relationships Gary Goldschneider & Joost Elffers.
ADVICE: Tune into what people are really saying. Beware of those who wish to monopolize your time and energy. Ideals and ideas can be worthy of devotion, but also destructive. Make sure that others want to be helped or led before you offer. Try to keep in touch with the actual state of things. Beware of being carried away by your own enthusiasm. 
January 22 
 (Capricorn-Aquarius), February 20 
 (Aquarius-Pisces), March 18 
 (Pisces III), April 16 
 (Aries III), May 14 
 (Taurus), June 12 
 (Gemini III), July 10 
 (Cancer II), August 8 
 (Leo), September 6 
 (Virgo II), October 4 
 (Libra II), November 2 
 (Scorpio I);
April SIXTEENTH (5d) the Day of COSMIC COMEDY: doubles up on their Diamond hand with the NINE of Diamonds "Universal Values - The Giver" Ego Card. You can compare that to the beneficence of Obama.
 FIVE
of Diamonds Connections
Best Marriage 
Hottest Sex