February TENTH (2s) the Day of ACCLAIM:
Those born on February 10 generally seek the widest acceptance available to them but also like to be appreciated by those in the know. Many born on this day wish for their achievements to be highly prized right up into the higher echelons of society or culture. More highly evolved February 10 people succeed in attracting recognition without trying too hard or compromising their integrity. Rather, they self-confidently follow a personal vision so intense or imaginative that others are won over. 
Indeed it is highly unusual for February 10 people to change their ways in order to become more popular. Their attitude is basically, "take it or leave it." Not that they are necessarily combative or confrontational by any means. It is simply that they only know how to do things their own way and are assured of themselves. Unfortunately, others may well take such an attitude for 
stubbornness
 or inflexibility. Those born on this day may therefore have to find a very understanding mate or someone who loves them precisely for their eccentricities, faults and foibles.
Strengths: Individual, Self-Confident, Empathetic
Weaknesses: Nervous, Self-Involved, Removed
ADVICE: Don't overlook small matters. Simple tasks can help your abstract nature. Avoid getting too carried away by the scope of your endeavors. Remember to attend to what is directly in front of you.
BORN ON THIS DAY: Berthold Brecht (German poet, playwright, writer of musical dramas, Three Penny Opera), Boris Pasternak (Nobel prize-winning Russian poet - refused reward, author Doctor Zhivago), Stella Adler (method acting teacher), Leontyne Price (opera singer), Mark Spitz (US Olympic swimmer, seven gold medals), Roberta Flack (arranger singer), Laura Dern (film actress), Greg Norman (Australian golfer), Charles Harold McMillan (British prime minister), Jimmy Durante (comedian), Robert Wagner (film, TV actor Hart To Hart), Alex Comfort (British medical biologist-writer, The Joy of Sex), George Stephanopoulos. Charles Lamb (British essayist); Source: The Secret Language of Birthdays Gary Goldschneider & Joost Elffers.
MEDITATION: Acceptance and universal values are important, but so are washing the dishes and mopping the floor.
Meaning of the TWO of Spades Partnership in Work
Karmic Challenge: Fear of Unity
TWO 
 of Spades: The FRIENDSHIP Card: The Two of Spades is the card of work partnership and friendship. Two's are also fear cards, and it is their own spiritual natures that often scare the Two of Spades. The displacement and Karma Card, the Six of Spades, speaks of karma to be paid in this life time, often in the form of work or health difficulties, while the placement of the Two of Spades in the Natural Spread at the Uranus/Uranus position tells us that they have strong institutional gifts. The double sixes in the Venus and Mars positions tell us that the Two of Spades often get into ruts in their family lives and work sphere. When they fight this monotony, there can be frustration. They have strong mental powers and strong intuitive powers and both of these can make them money. They are very congenial and have success in social situations but their Three of Hearts Pluto Card speaks of some indecision both romantically and in general that can plague them throughout their life. Overall they have an easier life path than most and should not let themselves let that ease turn to self-indulgence. Often they marry into money.
Your Karma Cards are the: 
 Six of Spades
 - You owe something to this person and they reflect you in some way. 
King of Clubs
 - This person owes you and you are their mirror in some way.  
FAMOUS TWO 
 of Spades George Robert Stephanopoulos is an American journalist, a former U.S. Democratic Party political advisor, and chief anchor of ABC News. February 10, 1961 (age 54), Fall River, MA. 
FAMOUS TWO 
 

of Spades
: Rush Limbaugh, Joe Frazier, Kirstie Alley, Laura Dern, Bertolt Brecht, Jimmy Durante, Aidan Quinn, Freddie Prinze Jr., James Van Der Beek, Butch Cassidy, Candace Cameron, Lowell Thomas, Audrey Hepburn, Stacey Keach, Glenn Beck, George Stephanopoulos. Charlie Watts, Hedda Hopper. Source: Robert Camp's Love Cards www.7thunders.com 
TWO 
 OF SPADES BIRTHDAYS: January 12 Capricorn, February 10 (Aquarius III), March 8 Pisces, April 6 Aries, May 4 Taurus, June 2 Gemini
TWO of Spades people are quick thinkers, sociable, and very direct. They are also hard workers, but can be even harder to work with. Those born with the Two of Spades as their birthday card tend to do well with property, and investments in minerals or products of the earth. They are also savvy with new technology, and have a flair for the performing arts. The 2 of Spades will often look for some kind of diversion in the form of gambling or risk taking. However, when it comes to love, they are only interested in meaningful or long term relationships. Mental rapport is high on their list requirements, and their straightforward charm and forthright demeanor almost always get them where they want to go.  http://www.metasymbology.com/
AQUARIUS III - The Week of ACCEPTANCE February 8-15: The theme of acceptance runs strong in the lives of Aquarius III's. Some of them are hardheaded and not particularly open to unusual ideas and people but become increasingly tolerant as the years go by. Others are overly accepting from an early age and allow themselves to be unduly manipulated or influenced by stronger, more selfish types. The challenge for Aquarius III's is to remain open to the world while at the same time retaining the ability to be selective in screening out harmful influences.
Strengths: LIVELY - INVENTIVE - AFFECTIONATE
Weaknesses: IRRITATED - VULNERABLE - NEEDY
ADVICE: Accept your need for other people and cultivate meaningful social interaction. Remain open and accepting, but demand that others accept you as you are, too. Your psychic abilities are valuable - use them constructively. Beware of allowing rejection to lower your self-esteem.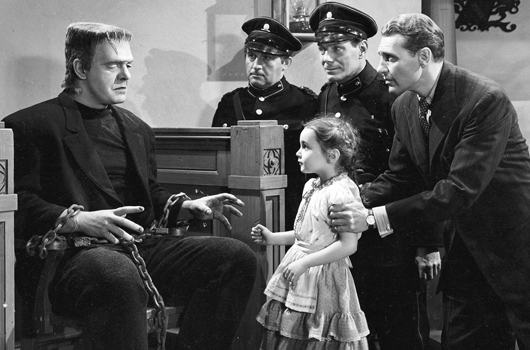 AQUARIUS III NOTABLE Creighton Tull Chaney, known by his stage name Lon Chaney Jr., was an American actor known for playing Larry Talbot in the 1941 film The Wolf Man and its various crossovers, and Count Alucard in numerous horror films produced by Universal Studios. February 10, 1906, Oklahoma City, OK.      
AQUARIUS III NOTABLES: James Dean, Mia 
 Farrow, Abraham Lincoln, Thomas Edison, Jules Verne, Galileo, Charles Darwin, Jack Lennon. Source: The Secret Language of Relationships, Gary Goldschneider & Joost Elffers.
                                                   Natalie Wood                                     Robert Wagner
What separates the February 10th, TWO 
 of Spades "The Friendship Card" from the other, TWO 
 of Spades birthdays, January 12th, March 8th, April 6th, May 4th, and May 2nd, is their unique Ego, the EIGHT 
 of Diamonds "The Sun Card" like
 Ra the Egyptian Sun God, It makes dating a February 10th person, a very challenging experience. 
"Much of their karma is worked out through power and control struggles with others. They dislike being controlled and try to maintain this same control in their relationships at the same time."
You can't have a much worse -karma card, than the SIX 
 of Spades "The Card of Fate." So, putting on my 'Ace Pet Detective' hat, what was the connection between Robert Wagner, our February 10th notable of the day, and Natalie Wood the July 20th, EIGHT 
 of Clubs "The Mental Power Card?" Here are the connection clues:
The Birth Card connection for February 10: Natalie's EIGHT 
 of Clubs is nowhere to be found.
                             TWO 
 of Spades Connections
                                                                             Best Marriage 
                                                                               Hottest Sex 

The Ego EIGHT 
 of Diamonds Connections for Robert Wagner and the February 10 person. Natalie's Birth Card the EIGHT 
 of Clubs, is down there in the cards, of Hottest Sex.
What was Natalie Wood's attraction to the February 10 person? Natalie, like all EIGHT 
 of Clubs people, was attracted to the higher suit, Diamonds, and especially to the power money card, the EIGHT 
 of Diamonds, for both sex and marriage. What is missing? There is no, Birth (Soul) Card, connection for either Wagner or Wood.
EIGHT 
 of Clubs Connections 
  Best Marriage

Conclusion: they never should have married the first time, let alone the second.